Runner Turned Triathlete (a true story)
By: Eve Kazik
Eighth grade recess at our small-town Catholic school was a 50-minute period to unwind, socialize, eat candy, and play games of Chase and Pitch-and-Catch. Our Room Mother and coach, watching over the students, called it: "Starting line is here! Line up!" Girls wearing plaid skirts and tennis shoes and boys wearing gray pants and blue short-sleeved shirts lined up, as directed by Mrs. Poche. "GO!" I dug deep and sprinted the 100-yard trek over the dry grass. I was wearing my semi-new, black-and-white, $5 Shoe Town Track Shoes so I KNEW I could WIN! Half way there I realized I could take the lead, and I did. Not only did I beat the girls but I also beat the BOYS. A win is a win! The coach tapped my shoulder and said, "You're on the track team. Oh, and by the way, show up Friday for softball practice."
That was the day that changed my life. Even though I spent my childhood playing outside with the neighborhood kids, I didn't get into organized sports. My brothers played football and I was the cheerleader. I actually didn't know I was athletic and thought of myself as a book nerd. I avoided recess and sports because I just didn't know the rules of the games and would rather be reading a book!
My twin brother is the reason I run. He talked me into joining the high school track team and that was a wrap. The coach there recruited the whole track team to run cross-country. I ran for the next 30 years only taking breaks to start a family and a career.
My mother was a huge influence in my life. She used a lot of clichés to express herself, and she bought in to the notion that if you swim off the Lake Pontchartrain Seawall that you'd be sucked UNDER it and drown. It's an Old Wives Tale that many born-and-raised New Orleanians cherish and re-tell, even to this day! I always DREADED the Lake Pontchartrain Seawall because of the tale they told.
After many, many years of road racing and marathon running with the Chalmette Track Club, I decided to venture into triathlon at the nudging of a friend and neighbor, Craig Taffaro. But I MUST conquer my fear of the Seawall. It was April 5, 2009 when the FIRST half Ironman 70.3 was held in New Orleans. I grabbed my camera and shot a bunch of pictures of the athletes jumping in the lake off the deadly Seawall. Erika Levandoske was one of them and I admired her courage! Guess what? She didn't DIE!
Later that year I learned how to transition from pool swimming to open water swimming with the help of my son, a competitive swimmer since the age of 7, Chris Kazik. The dreaded Seawall was of no consequence any longer! I swam open water at the Swim Hole twice a week and then my journey into triathlon began!
My strength has always been RUNNING. Second best for me was SWIMMING. The bike? Well, I pretty much sucked. My first bike was a Specialized Allez, an entry-level road bike I purchased from Bicycle Connection in Chalmette. I HATED THAT BIKE. Why I kept it for six, long, miserable years I'll never know! In 2010 when we formed the Steel MagNOLAs, an all-female triathlon team, I had ladies to train and race with. Even though I was very fit and could out-run and out-swim people in my age group, I faltered on the bike. There was one pivotal moment when I realized I had to take action. I went on a "no-drop" group ride on a Sunday and, as usual, was struggling to keep up the whole way and I got "dropped". I was used to it, mind you, on the Lakefront. But this was a day we were riding in New Orleans East. I ended up on Read Road BY MYSELF, while the rest of the krewe was well on their way to Kona Fitness Center. I prayed that day and would not utter the "F" word, F-L-A-T, because of course, I didn't know how to change one. I realized the time had come to figure out what the heck was wrong with me on the bike! I purchased a used Time Trial Bike from a teammate and I was in Heaven!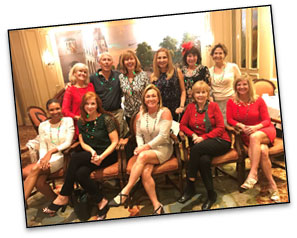 All things change! I became quite competitive in my age group as a late 40+ competitor. I've been the Captain of the Steel MagNOLAs since its inception in 2010, have about 50 triathlons under my belt, including five 70.3s (half Ironman) and one FULL Ironman in 2016. I have had an influential coach, Rick Montgomery, to get me to qualify for the Boston Marathon, in 2013 and 2014. I owe everything to him and my connection with the Steel MagNOLAs.
My next challenge is USAT Age Group Nationals in Cleveland, Ohio. My training begins now. But most importantly, I love our team, the red and black, Steel MagNOLAs. I will be training with Coaches Rick Montgomery and Jill Marie Kenyon, two of the finest coaches and athletes in the city of New Orleans, and I am fortunate for that!
Captain Eve
Steel MagNOLAs