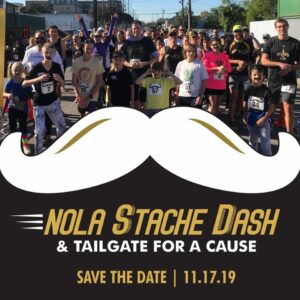 IT'S MOVEMBER IN NOLA… and we're ready to help. The annual NOLA Stache Dash is a 2 Mile fun run (with beer at every quarter-mile) held in conjunction with a Saints tailgate party to raise money and awareness for prostate cancer at the nation's only Musicians' Clinic.
But you don't have to walk or run in order to enjoy the event! The Tailgate for a Cause is also a party with plenty of Bloody Marys, mimosas, great brunch, live music and a moustache contest.
Proceeds from donations, sponsorships, raf es, auctions and tailgate passes benefit patients of the New Orleans Musicians' Clinic.
So stop shaving now, grow your stache, and get in shape for the most fun run of the year! Medals will be awarded to the top three male and female finishers in each category, plus prizes for the Best Moustache and Beard.
Register Here: https://runsignup.com/Race/LA/NewOrleans/NOLAStacheDashTailgateForACause
Facebook: NOLA Stache Dash
Instagram: @nolastachedash